For every pet owner, their pets are like family members. During the planning stage of every vacation or trip, the pet's needs and requirements are also taken into consideration. There used to be a time when the pet owners could not take their pets with them on trips as most places prohibited their entry. But times have changed.
Today, pets are allowed to travel in public transports and, there are even hotels that have pet friendly accommodation. Such hotels provide many amenities that make sure that the pet is also comfortable during the stay period. But it also has certain rules that the pet owners need to abide by so that it does not trouble the owners or the other guests when they are in a new place or traveling.
Amenities Provided By Pet-Friendly Hotels 
The most common amenities that pet-friendly hotels provide are treats and different toys, but some also go the extra mile and provide more facilities like a separate play zone.
Here's a list of amenities provided by pet friendly accommodation:
Food and water bowls
Pet food and treats
Separate menus for pets
Beds, blankets, and towels
Leash-free play zones
Sitters
It is best to read such requirements and, pet policies before booking rooms in pet friendly accommodation. Most of these hotels also require pet owners to sign an agreement that states that they are financially responsible for any disturbance or damage caused by their pets.
Few Information To Acquire To  Ask Before Booking
To check the requirements, policies, and amenities the pet friendly accommodation provides, it is best to check beforehand. To do so, make sure to ask the following questions before making the booking. It will also ensure that the accommodation meets all the needs of the pet, and they will be comfortable staying there.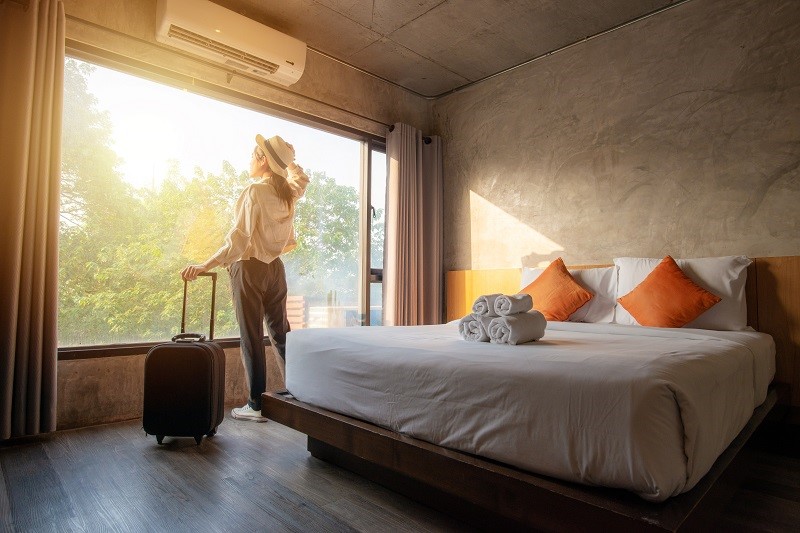 1.  Number of pets allowed per room
If traveling with more than one pet, knowing the answer to this question is very important. Every hotel has a different policy. Some allow only allow one pet in every room, while others may not have any limit. So ask beforehand to avoid any issues later on during check-in.
2. Additional pet fees
This is a major deciding factor when it comes to choosing a pet friendly accommodation. The charges range from free to nightly charges. The hotel can charge fees per night or pet basis. They have a pet friendly atmosphere so that they can freely move around without restrictions. So before choosing the accommodation, clearly ask about their fee structure.
3. Breed and weight restriction
Some hotels refuse to accommodate some breeds of dogs but, most pet-friendly hotels have weight restrictions over breed restrictions. Contact the hotel and ask about their weight restrictions. Sometimes, if persuaded properly, they allow pets who are slightly heavier than the limitation.
4. Amenities provided by the hotel
The level of amenities provided by the pet friendly accommodation differs from hotel to hotel. Some may just provide the basic amenities like food and play zone. Some may provide sitting services and even spas in luxurious hotels.
5. Restrictions
Ask about the different restrictions and requirements related to the pet's stay. Most hotels need proof of the pet's current vaccination, so remember to carry it. Similarly, check with the hotel to make sure all the other requirements are ticked and the pet is allowed in the hotel.
It is common for pet owners to take their pets with them on vacations, and to make the stay comfortable, all that is required is to find an accommodation that suits the pet and their owner. Ask the right questions and choose the perfect pet-friendly hotel, and then all that is left is to pack up and hit the road.